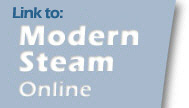 National Summer Steamup
McClellan, CA
July 17 through 21, 2013
In its 17th year of operation, the 2013 National Summer Steamup was the largest and best attended ever. It was the perfect blend of space and availability of track time. The light (or lack thereof) and its varied colors made for a real challenge. However, We were able to catch up with our friends, make new acquaintances, and enjoy the pursuit of operating steam engines.