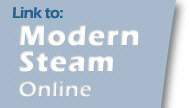 Steamup at Dan Liebowitz'
Woodside, California
March 29, 2008
The turnout for Dan's steamup was incredible. There must have been about three dozen people there at the peak. Of course, as I have commented before, Dan's layout is huge, well maintained, and in a beautiful park-like setting. We had a great day of steaming and socializing.